Huey Walker spielt Musik zwischen Ambient, Drones, Zeitlupen-Folk und verspultem Shoegaze. Durch seine Effektgeräte schickt er verschiedene Klangerzeuger: Gitarre, Spieluhr, Vocals, Flöte und andere Blasinstrumente, Tapeloops, Samples alter Schallplatten und was ihm sonst noch so in die Finger kommt.
Info
Aus einem Grundloop entwickelt er ein harmonisches Plätschern, überlässt diese Klangschleifen ihrem eigenen Weg durch die Parameter und Variationen der Effektwege, greift dann wieder ein, um aus neuen, live eingespielten Loops, ihrer Zerdehnung und Zerbeulung eine neue Fläche, ein neues Holpern, eine neue Harmonie zu gestalten. Heraus kommen statisches Schunkeln, leiernde Wiegenlieder, Wald-&-Wiesen-Gewusel,wohltemperierter Lärm und Freeform Firlefanz.
Huey Walker widmet sich mit den Mitteln von Minimalismus, Aleatorik und generativer Musik einer ausgedehnten Form der Entschleunigung. Er ist der Bademeister im ewigen Geplätscher verspulter Töne.
Musikschwafelnde Vergleiche gefällig? Kein Problem: wären Popol Vuh und Brian Eno die Dielen einer Blockhütte und Kevin Godfrey alias Epic Soundtracks von den Swell Maps und Alice Coltrane ihre Bewohner, Huey Walker wäre der Stubentiger, der dort maunzend seine Runden dreht.Alan Licht referierte via Albumtitel auf sich selbst mal als "Evan Dando of Noise?". Huey Walker muss in diesem Licht mithin als Lou Barlow des "Bacchanal Bed-Room Drone" umschrieben werden.
Er ist ebenso Mitglied im Freeform-Duo The Kanadagans (ehem. The Splendid Ghetto Pipers).

Discographie
Albums as Huey Walker:
Various as Huey Walker:
Albums with The Splendid Ghetto Pipers:
Various with The Splendid Ghetto Pipers:
Gallery
Oscillations
"Oscillations" ist eine Audio-Installation für drei Gitarren, ein Pendel und einen optionalen Musiker. Einer Idee der generativen Musik folgend, überlässt Huey Walker das Spiel der Gitarre einem motorbetriebenen Pendel. Ein an der Raumdecke installierter Rotationsmotor versetzt ein an einer Schnur angebrachtes Pendel in Schwingung. Das Pendel schwingt über drei nebeneinander positionierte Gitarren und versetzt die Gitarrensaiten durch zufällige Berührungen in Vibration. Es entstehen Unregelmäßigkeiten im Rhythmus des Pendels. Es entsteht Musik.
Aus der Installation entstand eine CD beim Sublabel "Nouvelle Walk". Eine Video-Dokumentation gibt Einblicke in die Installation und ein angeknüpftes Konzert.
Droops
"Droops" is an installation with three guitars &  waterdrops.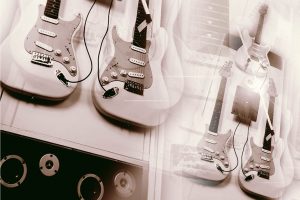 News: Huey Walker – Klanginstallation in der Marienkirche
Durch eine ständige Rotation spielt ein Stift über die Gitarrensaiten und einen Papierträger. Es entstehen in der Installation in jedem
Read more.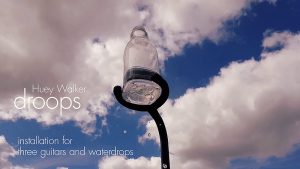 Video: Huey Walker – "Droops" – Installation for three Guitars and Waterdrops
"Droops" is an installation for three guitars and waterdrops. The guitars are brought to sound by dripping waterdrops. Huey Walker
Read more.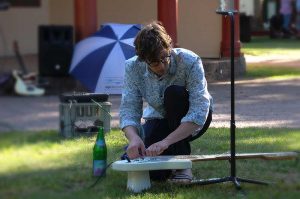 Photos: Huey Walker – "Droops": Three Guitars & Waterdrops at Aquanostra Festival
Photos von der Performance von Huey Walker beim "Aquanostra" Wasserfestival am Kunstverein "Roter Pavillon" in Bad Doberan. Die Installation "Droops"
Read more.
Reviews
"His music is quiet and focussed, slowly changing and mutating, but without major incident or trajectory. It clicks and whistles and mutters to itself, made of texture and sound, incident and half-heard ambience."
"…an ethereal, one shot, freeform Ambient and Drone production that drifts pleasantly between subtle movements of sound, carefully measured excitations designed to give the listener the lightest impression of the sonic landscape drifting, well, blearily through the mix across its span."
"…an epic hour-and-a-half long drone fest […] Recorded live, the CD takes you through layers and layers of noise, static, hauntingly subtle melodies and tenderly quiet guitars. Great winter music."
"promising drone-newcomer duo from Greifswald, Germany, presenting a live recording made Sept. 2013 with its full 103 minutes of handmade drone-glory performed w. guitars & electronics….'warm Breezes of blissful Drones and velvet Walls of Sounds'; comes in very nice selfmade printed cardboard cover with photo-inlay"
"just listening this, amazing sounding live recording, reminds a bit of william fowler collins' early live takes."
"fantastic 2-long-tracks of quiet and ease and stasis by brilliant Huey Walker & Bassbees !!! – drone but so quiet you can relax, esp first-track-total-delighter of drone-sloooow-folkie slow-mouth-organ sloow gtr-man-fingerer !"
"rainy day dream away, 1st thing came into mind while listening this, damn nice mixture of rainy field recordings and shoegazedroneambientfolk that sounds like slo-mo neil young."
Interviews
Projekte
Weiteres
Huey Walker electronic press kit / EPK, 2017