The Splendid Ghetto Pipers were a sound-searching Recording-Duo from Greifswald, Germany.
The Splendid Ghetto Pipers consisted of Huey Walker & Bassbees.
The Splendid Ghetto Pipers played free Music, well-tempered Noise, experimental Scapes and meandering Drones.
The Splendid Ghetto Pipers have reformed as The Kanadagans.
Info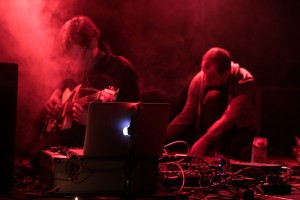 With Guitars, FX-Pedals, Synthesizers and occasional use of Toy Instruments, they create humming-buzzing Impromptu-Drones, based on spontaneous Intuition and Improvisation. In the Wake of the Sound, they wander through the Music, Tones and Noises.
Their music is based on Monotony, Minimalism, Improvisation and the Overlays and Meshing within the Layers of musical free Forms and loose Structures.
In their rippling Splish-Splash, liverecorded Loops develop a Life of their Own and complement each others with the Feedbacks from Humans and Machines. Finally, free Improvisations arise, sometimes loud, sometimes quiet – always psychedelic & humming, explorating & wafting – drowned in Sound, as one might say. A musical Communication rises from the mutual Submersion, from a subliminal Sense for the Playing and Phrasings of each others musical Counterpart.
With John Cage's dictum "I Just Want It To Be A Sound" (which is also the title of one of this Duo's Live-CDs) in Mind, The Splendid Ghetto Pipers drowse in endless Delaylandscapes, wandering through Hints of Postrock-Patterns und enoesque Repetitions – somewhere between the drugged-up Shoegaze-Contemplations by Spacemen 3, the somnambulant Moonchildblues of Loren Mazzacane Connors and the minimal-fluctuating Ambient-Tunes by William Basinski and Windy & Carl – just somehow different: as if you had frozen an Endless-Groove of one of their LPs to an endless burrowing, wandering Loop.
File Under: … / buzzing Refrigerators / Whirrings in old overland Electricity-Lines / the melancholic Crackles between old wooden Pylons in a decayed High-Voltage-Switchyard / …
The Splendid Ghetto Pipers were founded in October 2012. They played Concerts in Berlin, Greifswald, Rostock and at the Fusion- & the at.tension-Festival in Lärz. They shared the Stage with – inter alia – Sun Worship, Ronald Lippok and Bert Papenfuss.
The Splendid Ghetto Pipers are Martin Hiller alias Huey Walker and Stephan Rethfeld alias
Bassbees. As a Solo-Musician, Huey Walker does a loose Mixture of Lofi-Homerecording-Rumbling, Ambient-Folk and Minimal Drones; also did an 18min-Remix of a Track by the Lumières Claires (which consisted of Members from Diametral and Zucker). As Bassbees, Stephan Rethfeld is addicted to field-recorded and bassy-industrial Tones. He also plays the Bass in the Band [broːm].

Discography
Gallery